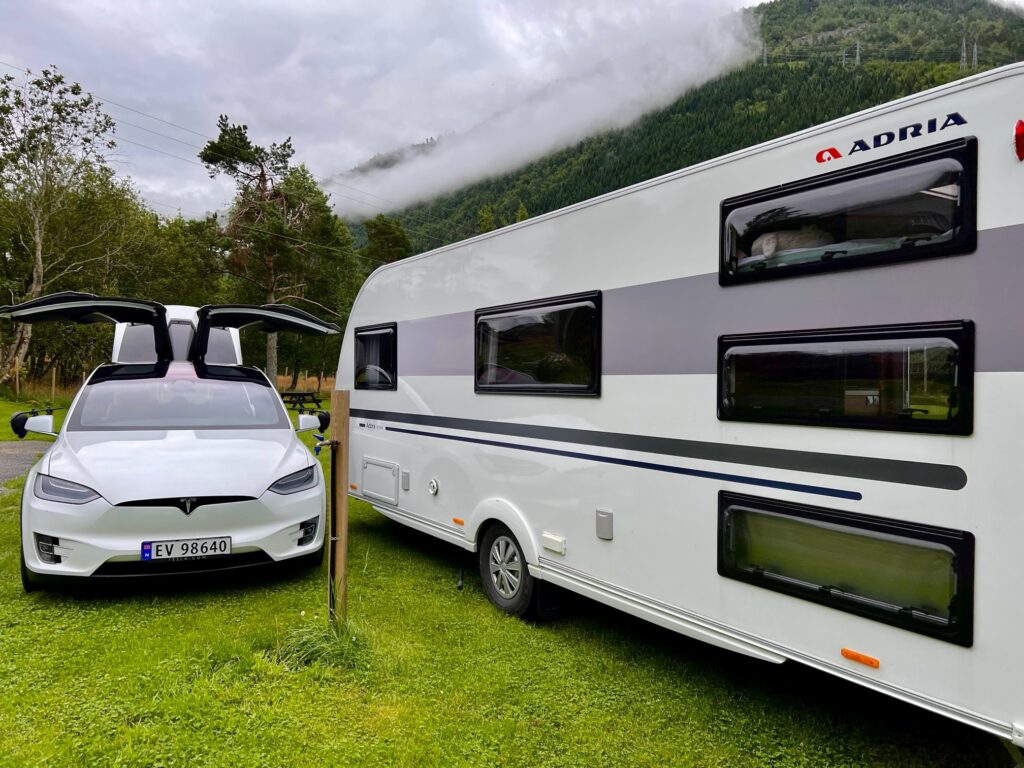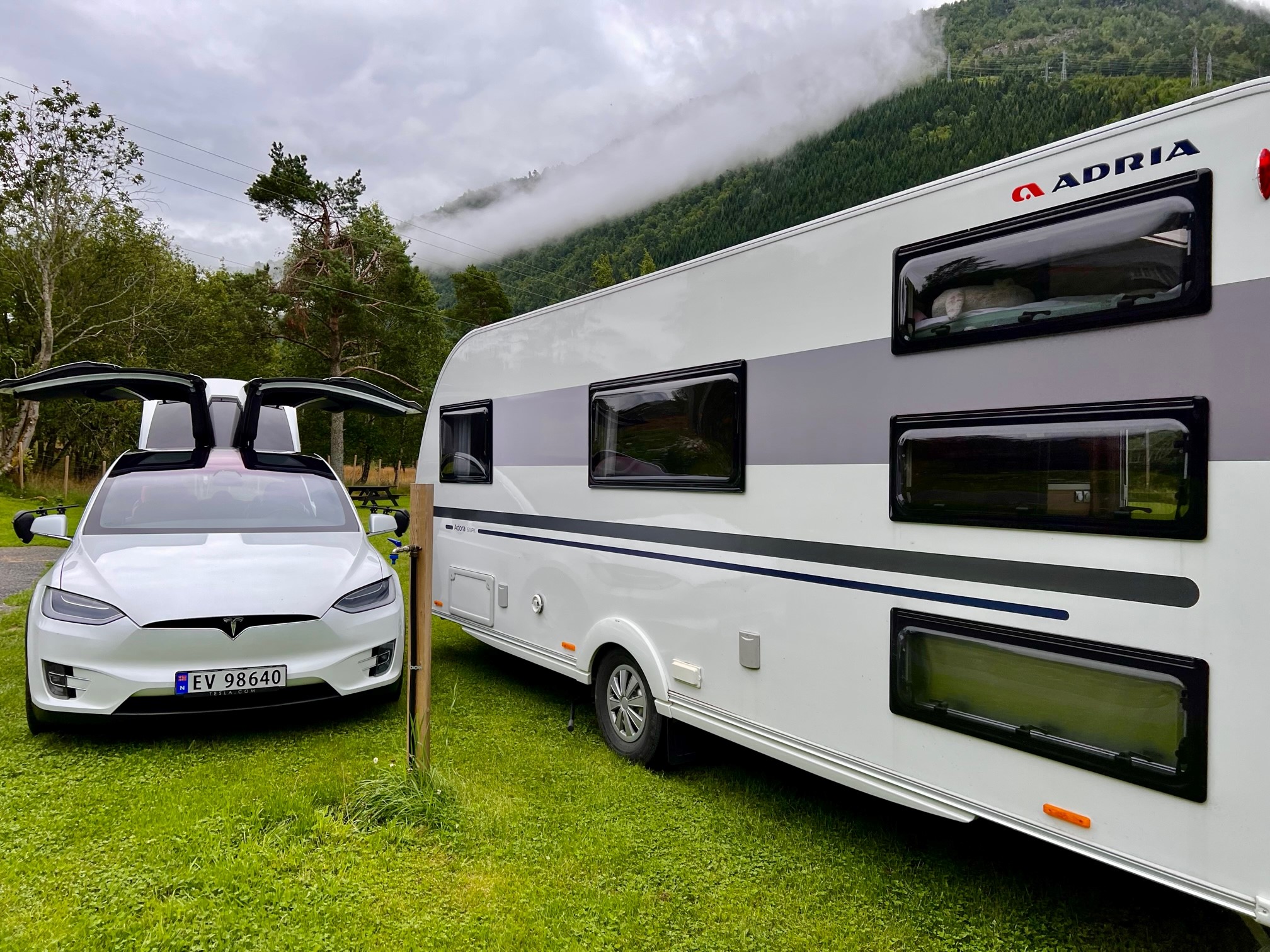 My two daughters (3 and 5 years) are sittings anxiously in their car seats. For the last two days they have pondered which toys to pack. My wife and I have packed our Adria caravan to the brim, the coffee is poured in travel mugs, and our electric car is fully charged. Everything is ready for our summer holidays.
This holiday we will be on the road for 23 days. We only have a reservation for the last week. Our original plan was to take the route along the west coast of Norway and end up in Fredrikstad. But after checking the weather forecasts we decide to drive straight to Fredrikstad, a 630km trip.
We started our trip in the afternoon, and after a few hours the kids fell asleep in the car. Four charging stops and 10 hours later we arrive at our destination, Larkollen Camping. The camping site offers two EV chargers, so the next day our car was ready to roll again. Larkollen has a beautiful location by the ocean in Oslofjorden. We spend the days playing with the kids, watching kiters riding the waves meeting up with family, and enjoying some relaxing moments.
Next stop was Aktivitetsbyen Camping in Fredrikstad, just a short hour drive away. We parked our caravan outside the Old Fortified town in Fredrikstad. This is the city where I grew up, so it's always nice to be back for a while. Besides the old town, Fredrikstad offers a beautiful boardwalk in the city centre with restaurants and cafés along the river, plenty of shopping and the beautiful Hvaler islands just outside.
We also visited a beautiful camping site in Aremark together with my in-laws. We found a place by the water where we enjoyed the sunset together. This is the only place where I struggled to charge my car. The local charger was out of order, and the camp site didn't allow charging from their outlets. I ended up driving 1 hour to Sweden to charge up (and shop for my wife at the same time – win win!). This is 3 months ago, and already today a new Supercharger in Sarpsborg has opened. This would have been a perfect charging stop, as it's located at the Inspiria Science Centre for kids. It's also worth noting that many of the Tesla Supechargers have now been opened to all EV's! In our experience Tesla has by far the most extensive and network and most reliable chargers.
The last week of our vacation was also the highlight, both for kids and adults. A few months in advance we had booked a nice spot in Daftø camping. By our standards this is a huge camping site, with room for over 800 caravans and mobile homes. Already the first day the girls met the Daftø pirates and explored the playgrounds. There are 5 different playgrounds, two beaches, a huge pool area, and the Daftøland theme park! Plenty to do for a family with kids.
For our second day we had planned a pool day. The girls were so excited they could hardly sit still during breakfast. When we arrived at the pool area, we discovered that there were actually two separate pools on two levels, with a shallow kid's pool on the top. As everything else in Daftø, the pool is pirate themed and has a pirate ship with water cannons in the middle.
A lot of Norwegians like to go shopping in Sweden because of the cheaper prices. Daftø is located quite close to one of the shopping destinations, Strømstad. I needed to charge my car and my wife was happy when we realised that a new Tesla charger has been installed at the parking lot outside the shopping centre.
After a beautiful week in Sweden, our vacation was coming to an end. We reluctantly took down or camp and headed back to Ålesund. In the car, we all agreed that if we could have spent a few extra weeks on the road we would have!
What it's like to tow a caravan with an EV.
Three years ago, when we bought our first caravan, Tesla Model X was the only EV option that fitted our requirements. As my wife is the head of sustainability for a Norwegian company, we never considered going back to a fossil fuel car. Today the list of possible EV options has grown considerably even for a heavy caravan like our Adria Adora 613 PK. I can only imagine how much further we will come in the next three years. Already now we are seeing EV's with a power outlet that can power your caravan through the weekend when free camping!
When we first started pulling our caravan with an EV this trip would have needed a degree of planning. Now fast chargers, super chargers and lightning chargers are littering the map, and we can charge in any number of places. As we are driving a Tesla, we tend to prefer Tesla Super Chargers, but if one of the girls must take a bathroom break, we will plug into whichever the closest charger is.
From experience we know that a full charge will give us a range of approx. 230-250km. But we also take weather and wind into account. If you are experienced with EV's, you already know that charging speed is reduced as the state of charge in the battery increases. Charging from 80-100% can in some cases take the same time as charging from 5-80%! To avoid spending to long time on a charger, we charge to about 80-85% before we drive on. This takes a little over half an hour, giving us just enough time to stretch our legs, go to the bathroom and maybe have an ice cream. With a small safety buffer, we plan our next charging stop in 175-200km. There has been a great development on this as well, with some EV's being able to sustain much higher charging speeds. I expect a normal charging session would take about 20 min with a new BMX iX or a Tesla Model Y.
Every time I arrive to a camping site with my Model X and Adria caravan, I get questions from curious campers on how it is to tow a caravan with an EV. They wonder how often I charge, how the car is to drive with such a heavy caravan and how I think this will develop the next years. The answer is that this is the future! Møller Group Norway has stated that by 2025 they will only sell EVs in Norway! In a few years I think that all caravan producers will have to adopt to the strengths and weaknesses of the EV as a towing vehicle. And this is good news for the environment. And for us, camping is all about the environment.
If we set range aside, EV's are perfect for towing! They are heavy and tend to have long a wheelbase. The centre of gravity is low, due to the large battery packs being placed under the floor. And power! There is just so much power that you don't even feel the caravan in a steep uphill or if you ever have to overtake. With our two tonne 613PK behind, I can hardly even tell that it's there. I have to look in the mirrors to remind myself. The range is for now the biggest issue. Pulling our caravan cuts the range in half. It turns out that width, speed and aerodynamics is by far the most important factor that increase consumption. Weight, length and number of axels also play a role, but nowhere near aerodynamics. The principle at work is that air resistance increases squared by speed. That means that increasing your speed from 60 to 90 doubles the air resistance!
About our setup:
Our car is a 2019 Tesla Model X Long Range. It has a gross battery capacity of about 100kWh, a towing capacity of 2250kg, and a normal range of about 515km.
Our caravan is a 2019 Adria Adora 613PK. It has an ex works weight of approximately 1450kg. With battery, Mover and all our gear it weighs about 2000kg fully loaded. It is 250cm wide, and 820cm long with drawbar.
If you are curious about towing with an EV, you are welcome to contact me. Maybe I can convince you to make the move to electric or advise you on what car or caravan to get. We also have a Facebook called "Campingvogn og Elbil", where you can find lots of tips and experiences.
I can be reached by email: chris.gati@gmail.com
Instagram @electric.caravaning