Sandane: A Picturesque Countryside in the Norwegian Fjords
Sandane is a small, enchanting village located in the Sogn og Fjordane region of Norway. The breathtaking nature, with fjords surrounded by towering mountains, makes it a perfect destination for nature enthusiasts. Among the gems of Sandane is Gloppen Camping,
 one of our favorite campsites. Learn more about this idyllic spot at https://www.gloppen-camping.com/
Getting there
Reaching Sandane from Ålesund requires at least one ferry crossing. There are two driving routes available: the inland route or the coastal route. The inland route takes you through Sykkylven, Stranda ski resorts, Stryn, and Loen, where you can find the Loen Skylift. The journey continues through Innvik and Utvik before arriving in Sandane. This 156 KM route is easily manageable on a single charge.
If you are driving from the eastern part of Norway, you have a selection of beautiful mountain passes to drive through before

 passing Sogndal and Skei on the way. 
Either way you will find plenty of fast chargers along the route. There is even a Tesla Super Charger in the village center of Sandane. 
Gloppen Camping: A Family-Friendly Retreat
Upon arrival at Gloppen Camping, we typically have around 20% battery left. After settling the caravan, we head to the city center with the kids to recharge at the Tesla Supercharger. The picturesque city center overlooks the fjords, and the children enjoy playing at the nearby playground while the car charges.
The campsite is beautifully situated on the beach, w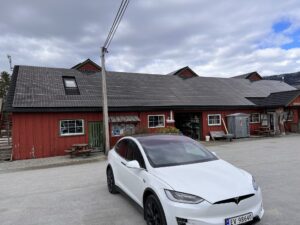 ith soft sand and shallow water perfect for children. Our girls love building sandcastles and playing on the beach. If the fjord water is too cold, there's a heated pool with a temperature of 24 degrees. The campsite also features a playground, a barbecue area, and a commitment to the environment, as evidenced by the solar panels covering the service building's roof.
Exploring Sandane
Despite having a population of only 2,400, Sandane has plenty to offer. The stunning nature provides peace and tranquility. In recent years, volunteers have developed fantastic hiking trails in the mountains, making it an adventure for both kids and adults.
Hiking in Sandane
Our favorite activity in Sandane is hiking. There are options for both short and long hikes. Our top pick is Trivselsskogen, easily accessible from the city center. Trivselsskogen feels like walking through a fairytale, with Norwegian folklore characters, hearts hung in trees, workout stations, and cabins for relaxing or reading. Our children, Tiril and Solveig Lykke, love exploring the trail and its many surprises.
After a 10-minute walk, we reach the campsite, featuring barbecue and picnic cabins. Our daughter Tiril enjoys playing games, such as "three in a row" with her father, Chris.
Other Activities 
Challenging Hikes For more challenging hikes, we recommend Rystdalshornet, with its peak at 1,201 meters above sea level. The stunning views from the summit are well worth the effort.
Fjordsauna: A Unique Experience Near the campsite, you can find Fjordsauna, a floating sauna that can be rented for a group or private experience. The incredible scenery, combined with the opportunity for a refreshing dip, makes this an unforgettable outing. https://www.fjordsauna.com/